Curious about what it's like to work in the wine business? If you love wine and, more importantly, love studying it, dissecting it, describing it and serving it to others, a career as a sommelier could be right for you. hosco.plus sat down recently with Vincent Debergé, Director of Restaurants at Geneva's 5-star Beau-Rivage hotel, and one of Switzerland's most recognized sommeliers. He offered us a peak into his daily routine, explained how his career in wine started, and offered some insider advice for those who are considering a foray into the wine industry. We also caught up with some international wine industry insiders who talked to us about opportunities around the globe today. So pour yourself a glass of the good stuff, and read on about the infinite possibilities of working in the world of wine.
In 2012, with the release of the documentary "Somm," the world got a taste of what it's really like to prepare for what is arguably one of the world's toughest tests—the Master Sommelier Diploma exam—the "world's most challenging wine examination, period" according to forbes.com. The film follows the lives of four Master Sommelier (MS) hopefuls as they prepare for the prestigious (and grueling) exam, and its cult-level success among both serious oenophiles and wine novices alike is a good indicator of the interest the world has taken in the wine industry in recent years.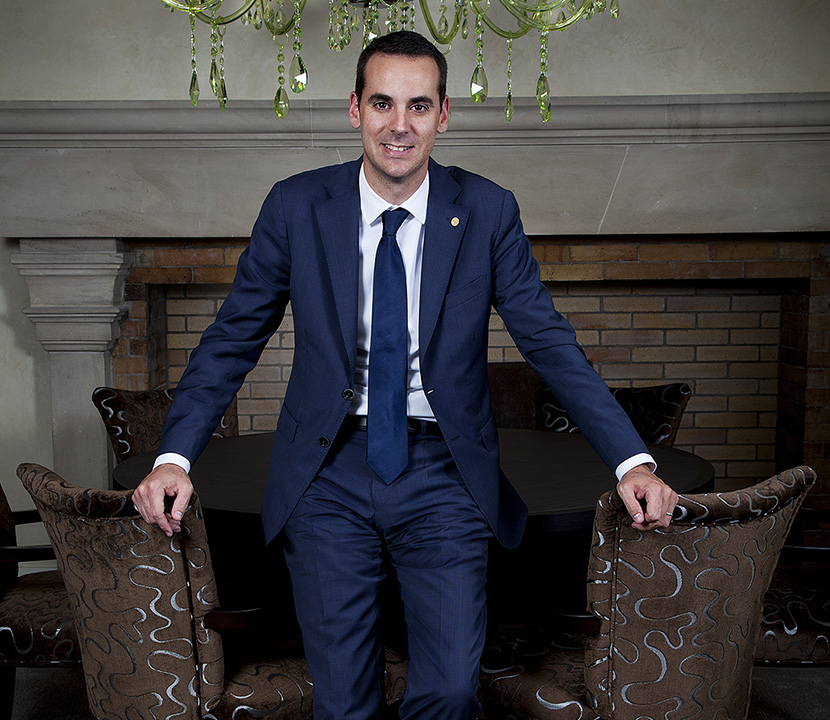 Vincent Debergé, sommelier and Director of Restaurants at Geneva's Beau-Rivage hotel.
If "Somm" teaches us one thing, it's that the wine field, and specifically the field of sommeliers, is a passionate lot. Some might even use the word "obsessed." While many sommeliers may wax poetic about their passion for wine having pushed them to pursue a career in wine, Vincent Debergé emphasizes that in his case, passion played a very small role, if at all. "it happened on its own—by life, by experiences," he says. "I had to work from a very young age, and I started as a waiter—actually as a server apprentice. The world of wine happened. I didn't do it by passion, I did it by need."
Debergé, who is French, began his career at 16 working in a 2-Michelin-starred restaurant, Relais de la Poste, in Magescq, France, north of Bayonne. It was there that he discovered his palate, although he said this was influenced by his father as well, who was a lover of wine and had introduced him to tasting at a young age. He happened to walk by his boss's office one night after service, where the manager was tasting a wine with the restaurant's chef sommelier, "someone who was very passionate about his métier, about history, about traveling." They invited Debergé to taste the wine, a Château Yquem from the 70s or 80s, he is not sure of the vintage anymore. "I described the wine to them, and my boss told me at that moment that he had already perceived that I had a good palate."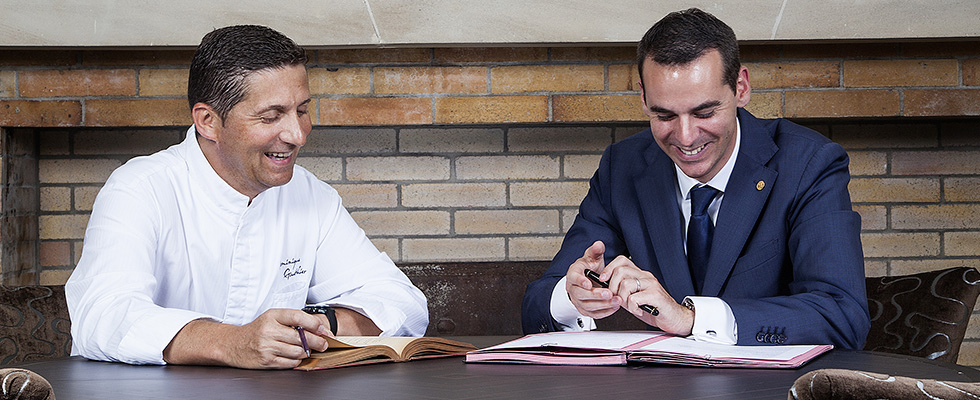 Sommelier Vincent Debergé and chef Dominique Gautier of Le Chat-Botté in Geneva's Beau-Rivage hotel.
That night launched Debergé's journey into wine, and he emphasizes that it has always been more of a professional journey than a formal educational journey. Although he has a baccalaureate degree with a special mention in sommellerie, he learned everything he knows during his apprenticeships and jobs, and by learning from his mentors. "In my case, it was truly my drive to succeed that pushed me. I don't have a big need to be certified. I just want to be the best at what I do," he notes, adding, "But a diploma is very important. Even if you have other degrees, you should pursue a diploma in wine if it's possible." Before landing at the Beau-Rivage in 2011, Debergé had worked as a sommelier at "Le Cinq" in Paris's Four Seasons Hotel George V, as well as at the Ritz Paris's "L'Espadon."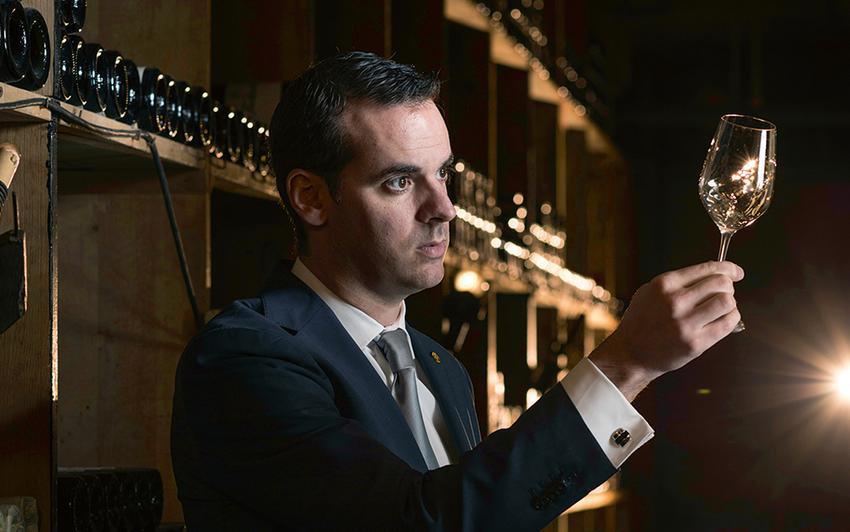 Sommelier Vincent tasting wine at Le Chat-Botté in Geneva's Beau-Rivage hotel.
When asked about what a typical day is like for him at Le Chat-Botté, the Beau-Rivage's one-Michelin-starred contemporary French spot, Debergé says, "I do a lot of things, and every day is different. But in general you have the daily mise-en-place, the service, the degustation with the sommeliers (he has three sommeliers working under him currently), sometimes we visit the vines in the afternoon, then there is the planning, the budget…" As is the case for many food and beverage professionals, the list goes on. And on. Debergé notes that he and his team also test each other almost relentlessly through questionnaires and blind tasting before service every day.
According to Debergé, the secret to being a good sommelier is, first and foremost, a love for the profession. Next, a true understanding of what that profession truly means. "We are not in sales, we are not oenologues or winemakers. We are in service, and we are there to transmit a message, to be the link between the vine and the taster." He also notes that cultivating a good relationship with clients is a huge part of any sommelier's success. "The most essential is to be available and approachable, measurable and touchable," he says. "Sommeliers tend to scare people, who associate them with money and pretension, when this is not the case."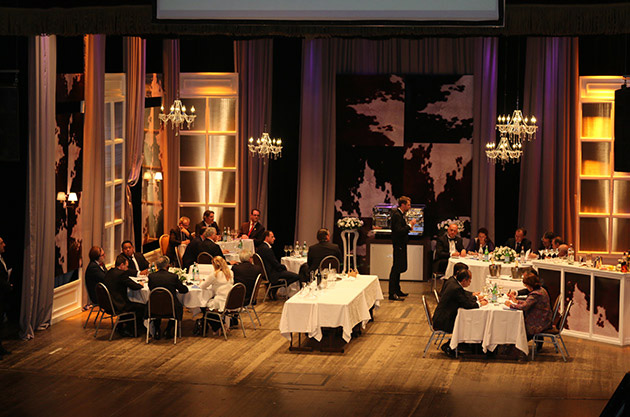 Mock restaurant with 23 judges at this year's Best Sommelier in the World competition
The other secret to success? A competitive soul. Debergé says that he trains a lot for competitions, which he used to do for his C.V. but not he does for himself. "For my ego," he laughs. He is currently preparing for the "Meilleur Sommelier Suisse" (Best Swiss Sommelier) competition coming up in October 2016, which he also took part in last year. And he will be competing for the first time in the "Meilleur Ouvrier de France" (Best Craftsman in France) competition in three years. Better known by its acronym, the MOF is the most prestigious award in France among trades and professions, and earning it is a lifetime honor for everyone from chefs to hairdressers to florists. "You need a competitive soul," he says. "You need to push yourself to understand wines that change over the years. You need to keep tasting them to really know them and maintain your knowledge."
His advice to those considering a career as a sommelier? "Stay true to your dream, but also stay true to the profession, the métier. Know that it means being in a restaurant every day. It means tasting and buying wine, managing a cellar, choosing wines for guests and serving them," he says. "One of the most important things is maintaining curiosity about food and wine—what is the terroir? What about food? What part of the cow does that come from?" Debergé has a habit of tasting all of the sauces in the restaurant's kitchen at least twice a week, explaining, "I really need to taste things—I have a need to understand." And for a sommelier, the palate is a tool that needs to be fine-tuned in order to stay sharp and sensitive. "I'll give you the example of pepper," he says. Pepper? "Yes. I don't get it when someone tastes or smells a wine and just says, 'peppery,'" he says. He wants to know which pepper. There are hundreds of varieties, after all.
Just how do sommeliers train themselves to perceive the subtle nuances of various spices, minerals, floral notes, fruits and other "nose" descriptors? Debergé turns the question around. "How did you learn to write?" In short, he explains, it takes study, research and a lot of tasting to know the difference between black pepper, white pepper, bell pepper. And while Debergé prides himself on being largely self-taught, there are courses in any formal wine education that focus on palate. With many excellent schools and programs available now in wine studies, now is a great time to pursue a degree in wine. But why is that?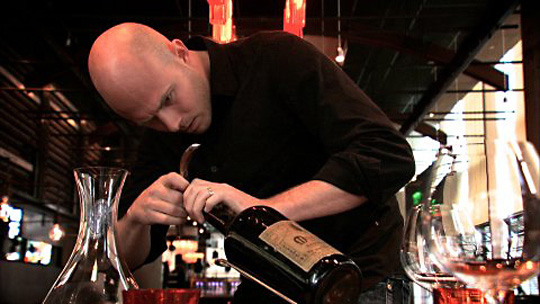 Scene of the movie "Somm"
Geoff Kruth, Master Sommelier since 2008 and current president of the Guild of Sommeliers, says, "We have seen a big growth in demand for sommeliers as restaurateurs have realized how important it is to the growth of a restaurant. There has been a growth in consumer interest in dining, wine and, in general, sommelers as well." Kruth, who appears in "Somm" as well as in the fim's 2015 follow up, "Somm: Into the Bottle," says that training to be a sommelier can lead to other opportunities within the hospitality industry. "It can be a springboard to success," he points out. "That education is valued across the business."
The Master Sommelier (MS) diploma may be "hot" right now, largely thanks to "Somm" and other American documentary shows just like it—and it may indeed be the ultimate goal of many sommeliers—but its influence seems to be strongest in North America. Of the 230 Master Sommeliers around the world, 147 of them are from the Americas chapter. The fact is that there are highly successful sommeliers working without the MS diploma all over the world, and although they may acknowledge the merits of the diploma and the governing body that issues it, the Court of Master Sommeliers, they know it's not the only way to go.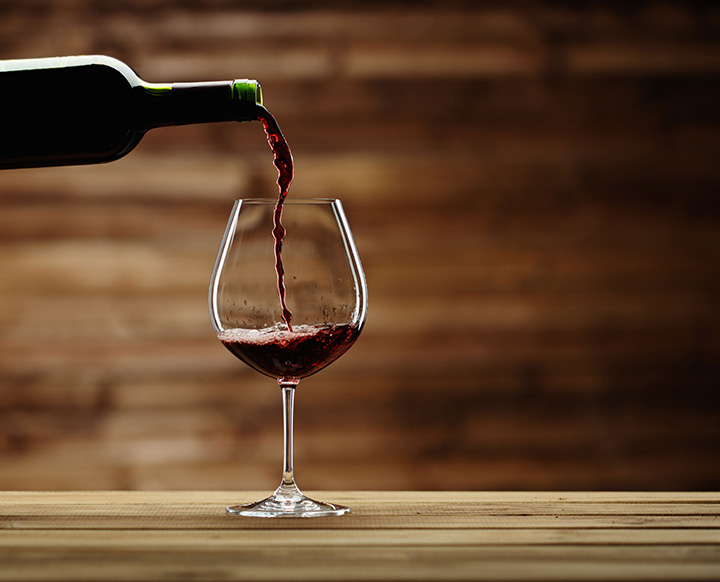 There are quite a few highly reputable wine diplomas available internationally, including the Wine & Spirit Education Trust (WSET) and the Institute of Masters of Wine program (MW), both of which focus heavily on theoretical knowledge of the world of wine and are not necessarily designed for those looking to become sommeliers—graduates of both programs pursue various careers in wine and spirits, including wine writing and wine education as well as other trade professions. And let's not forget the various international sommelier associations that encourage continuing education for those working in the wine industry, like the France-based Association de al Sommellerie Internationale (ASI) and the California-based Guild of Sommeliers, which has 11,000 members, a third of which reside outside the U.S. Kruth says GuildSomm, as it is referred to in the industry, "supports wine education and the professionalism of the trade," and adds that his organization's tech-driven resources—videos, podcasts, articles, seminars, events—are what defines it. There are also countless national and regional associations, guilds and examining bodies that sponsor educational events, master classes and competitions for sommeliers around the globe.
René Roger, Professor of Oenology at Ecole Hotelière de Lausanne (EHL), says the most important thing for sommeliers is to continue to education themselves throughout their careers, even if they don't pursue a specialized diploma from one of the aforementioned programs. "If you have such a degree, you will have no problem to find a job," he says. "You will be working for groups and companies. But honestly to be a sommelier you don't need it. You just need to keep studying."
What kind of salary can sommeliers expect to make? While this number varies a lot by country, Kruth says that the median salary for sommeliers in the U.S. is around USD 55K per year, but that it ranges up to USD 150K based on experience. Salaries also range broadly in Europe depending on experience. A 2014 GuildSomm article by Swedish sommelier Arvid Rosengren notes that in many European countries, a sommelier's starting salary could be higher than a U.S. salary, but points out that it would be rare to see more than a 50 percent salary increase over the course of an entire career. He writes, "A rare handful ever double up on the salary they started in the business with. It seems the American system is much better at promoting striving for excellence."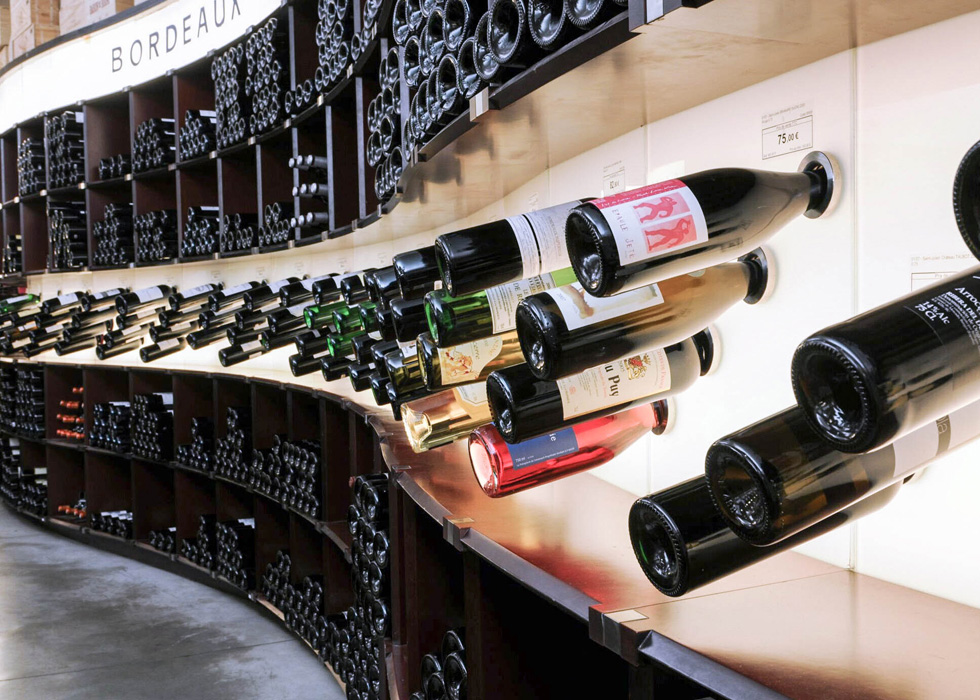 Fancy a wine career in retail? Pictured here, Lavinia in Paris.
Love wine but unsure if the job of sommelier is a perfect fit? Lucky for you, the possibilities seem to be boundless these days. Roger points to the rising popularity of retail in the wine business today, not only in traditional wine countries like France, Spain and Italy, but in other countries as well. "Wine bars and wine boutiques, this is a trend now and works very well. It's what everyone wants to do. It involves a lot of travel and looking for cheap and interesting wines, but good quality wines," he says. According to Kruth, there is currently an increase in quality in retail as well. "We are seeing some of the same sommelier training applied in retail stores," he says. Beyond retail, Kruth adds that even areas like sales distribution are seeing a more educated workforce. "There is now more expectation that the people who are repping portfolios will have a broader understanding of wine. The opportunities are growing across the board," he says.
Roger also cites wine brokerage and consultancy—which he dabbles in himself—as two hot career paths in wine right now. "Brokers are people making money from leftovers—wines who didn't find clients. They are specialized in selling those wines in volume. Some winemakers don't know what to do with their wine, and so they use the brokers. They can be sold to restaurants because they are cheap and low profile, but good, which raises the profit margin at the restaurant level." Roger, who himself consults for a product out of California, says that a consultant gig is what many professionals aim to do after years of working in the wine industry. "You become a consultant by proving yourself. If you don't have a diploma, you have to go through a lot of tasting competitions to get your name out there."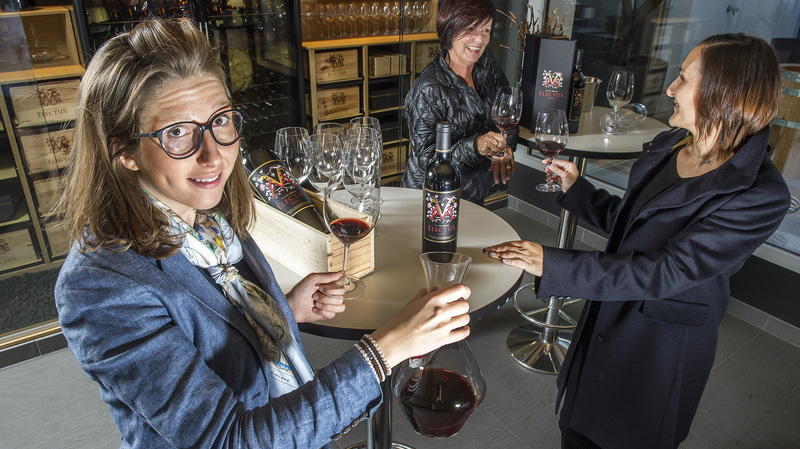 Johanna Dayer tasting L'Electus wine, from Provins.
What about those of you with an entrepreneurial streak? There's a job in wine for you, too. Johanna Dayer was one of René Roger's most promising students at EHL, where she completed her degree in hospitality management in 2014 She is now pursuing a wine diploma from WSET, which she plans on finishing in 2017, and works full-time as a product manager with Valais Mundi, a Swiss winemaker that is a high-end, specialty offshoot of its larger parent company, Provins. "As product manager, my first focus was getting people to know our wines by getting them on the top wine lists, and then developing the back office by creating marketing materials, accounting practices, etc. – all of the structure for this daughter company," she explains. "Now I am working mostly on projects like our new website launch, creating a loyalty program, doing PR, organizing events all over Switzerland but also in Bordeaux and in London."
When asked if she considered any other careers in wine, Johanna said that there are other aspects of the industry that interest her—and some that don't. "There are other things that interest me like buying, which focuses more on the accounting part as well as on the market and the consumers. As a sommelier, you are doing the same thing every day, even if every customer and every wine is different. It's not the same challenges of starting new things and project management. Someone with a degree in hospitality management might not enjoy being a sommelier as much as doing what I do." Dayer's advice for those looking seriously for a career in wine? Get a diploma. "My advice is to do a WSET exam," she says. "It's really well done, and it's recognized all over Europe and the world."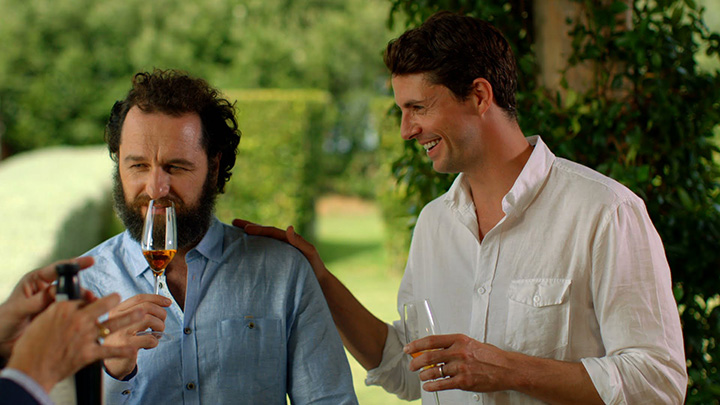 The Wine Show, starring British actors Matthew Rhys and Matthew Goode, airing in Spring 2016 on ITV
The world of wine is big, and it's only getting bigger it seems—and more accessible to the general public, through film and television. Just this month, the UK's ITV network announced a new series, aptly named, "The Wine Show," set to air sometime in Spring 2016. The show is hosted by two British actors, Matthew Goode and Matthew Rhys, who call themselves "enthusiastic novices." Are the professionals just as enthusiastic about the industry's current Hollywood hype? While Debergé says he has not seen "Somm" yet, he did watch "Sideways," a 2004 film that takes viewers on a comical road trip through Napa Valley, albeit a fictional one. The verdict? "I was a bit shocked," he says, referring to the fim's main character drinking a 1961 Cheval Blanc out of a plastic cup in a fast food restaurant. "That was hard to watch."
10 Interesting Facts About the World of Wine
According to The Wine Institute, 90% of U.S. wine exports come from California, and in 2015 those exports reached $1.61 billion in winery revenues—a 7.6% increase over 2014.
It may be hard to believe if you've ever attended a French wedding, but according to a recent study by Agrifrance, the U.S. has overtaken France as the world's top wine consumer, with average annual consumption at 12 liters per person.
Europe still accounts for 50% of wine consumption worldwide, and 84 of the 100 most "famous" wine brands in the world are French, according to that same study.
The Master Sommelier exam has three parts—theory, blind tasting and practical service. Candidates must pass the theory portion first, and they then have three consecutive years to pass the remaining two parts. If all three parts are not passed during a three-year period, the entire exam must be retaken.
"Somm: Into the Bottle," a follow up to 2012's "Somm" documentary was released in early 2016.
In 2013, the Court of Master Sommeliers saw a 20 percent increase in applications for its certifications.
French oak is the most popular kind of wood to use for wine barrels, and the most expensive—they can cost anywhere from €850 to over €4,000 per barrel, depending on which region they are made in. People who make barrels are called coopers.
Spain leads the world in land acres dedicated to wine making. The U.S. ranks sixth, with about one million acres of vineyards. Who's last? Qatar, with just 25 acres.
In 2013, China became the world's largest consumer of red wine, buying 155.4 million cases of it. Comparatively, France bought 150 million cases and Italy bought 141 million.
Ever had a Chinese wine? The country was the fifth largest producer of wine worldwide in 2012. Gan-bei! (That's 'cheers' in Mandarin, meaning literally 'dry the cup.')