In the 2012 movie "Chef," Jon Favreau plays a character who loses his high profile executive chef job at a chic Miami restaurant and, after a bit of soul searching, opens a food truck. He ditches the haute cuisine for simple, delicious Cuban sandwiches, and he finds success and happiness. Is it really as easy as Hollywood makes it out to be? Hosco.plus takes a closer look at how food trucks have made such a mark on today's urban dining scene, and we talk to some industry insiders about what running a food truck is really like.
Since the late 2000s, food trucks have been a steadily rising trend in the U.S, and they have recently made their mark in Europe as well. A 2012 Smithsonian article calls food trucks the "new incubators of culinary innovation," and traces the roots of the phenomenon to Los Angeles, where since the 1930s drive-in and roadside dining has been the norm, and where traditional taco trucks called loncheras have been around since the 1960s in Mexican-American neighborhoods.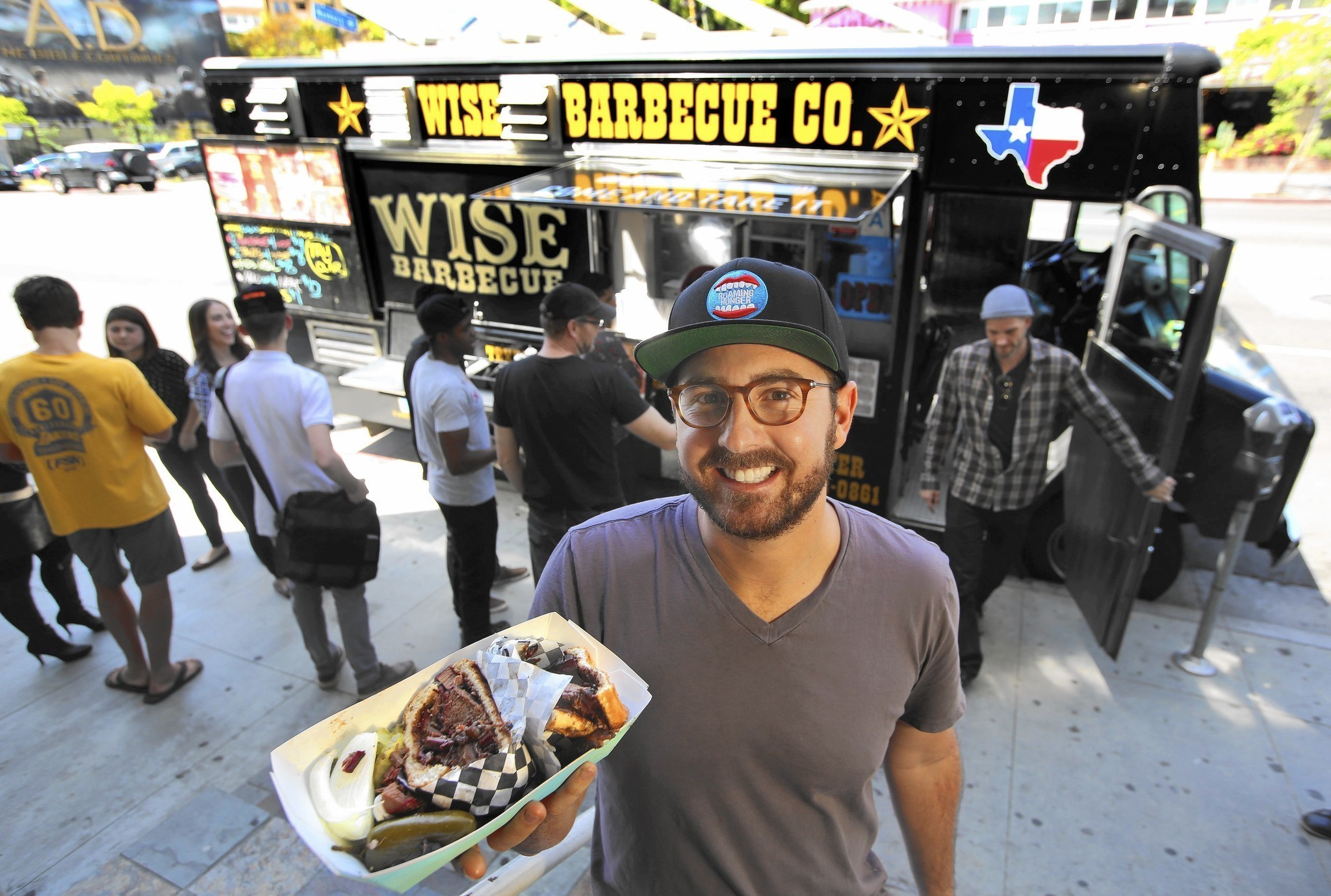 Ross Resnick, founder of Roaming Hunger, holding a barbecue brisket sandwich from the Wise Barbecue food truck, one of the company's primary vendors in Los Angeles
But the birth of the modern food truck as we know it today—street food with a gourmet, sometimes quirky, twist (and a slightly higher price point)—seems to have taken place during the 2000s in California, exploding across the rest of the nation after 2010. Business Insider reports a 197 percent increase in the number of food trucks in the U.S. between 2011 and 2013. Ross Resnick, founder of Roaming Hunger, which started as a simple street food directory in 2009 and now provides food truck catering, concessions and branded promotion with a directory of more than 8,300 mobile food vendors globally, says, "The modern food truck trend really started in 2008 when Twitter took off. Social media became a way for food truck owners to break free from the constraint of being known for their locations and allowed them to become known for their brands and their dishes."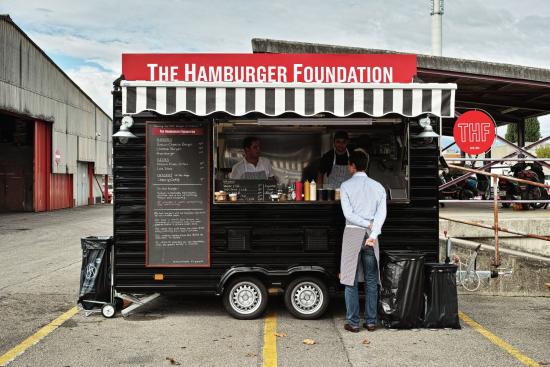 The Hamburger Foundation, Geneva's first food truck
George Bowring started Geneva, Switzerland's first modern food truck, The Hamburger Foundation, in 2012 with two old friends Yann Popper and Marc Gouzer. The business has now expanded to include two mobile locations and a restaurant with the same name, which opened in January 2014. He says the food truck trend arrived in Europe via London, and then made its way to Paris before spreading to smaller cities like Geneva, whose local governance currently runs a program called "Lunch Time Mobile," which rotates trucks around the city. "There is a really good one, and the first one I think, in Paris, called Le Camion Qui Fume (The Smoking Truck)," says Bowring, a 2007 EHL graduate. "And now they have opened a boat and have a cookbook, so it has been really successful." Indeed, Le Camion Qui Fume, generally acknowledged as Paris's food truck pioneer since its 2011 launch, opened Le Bateau Qui Fume (The Smoking Boat) in September 2015. And its American chef-owner, Kristin Frederick, published her cookbook in October 2012.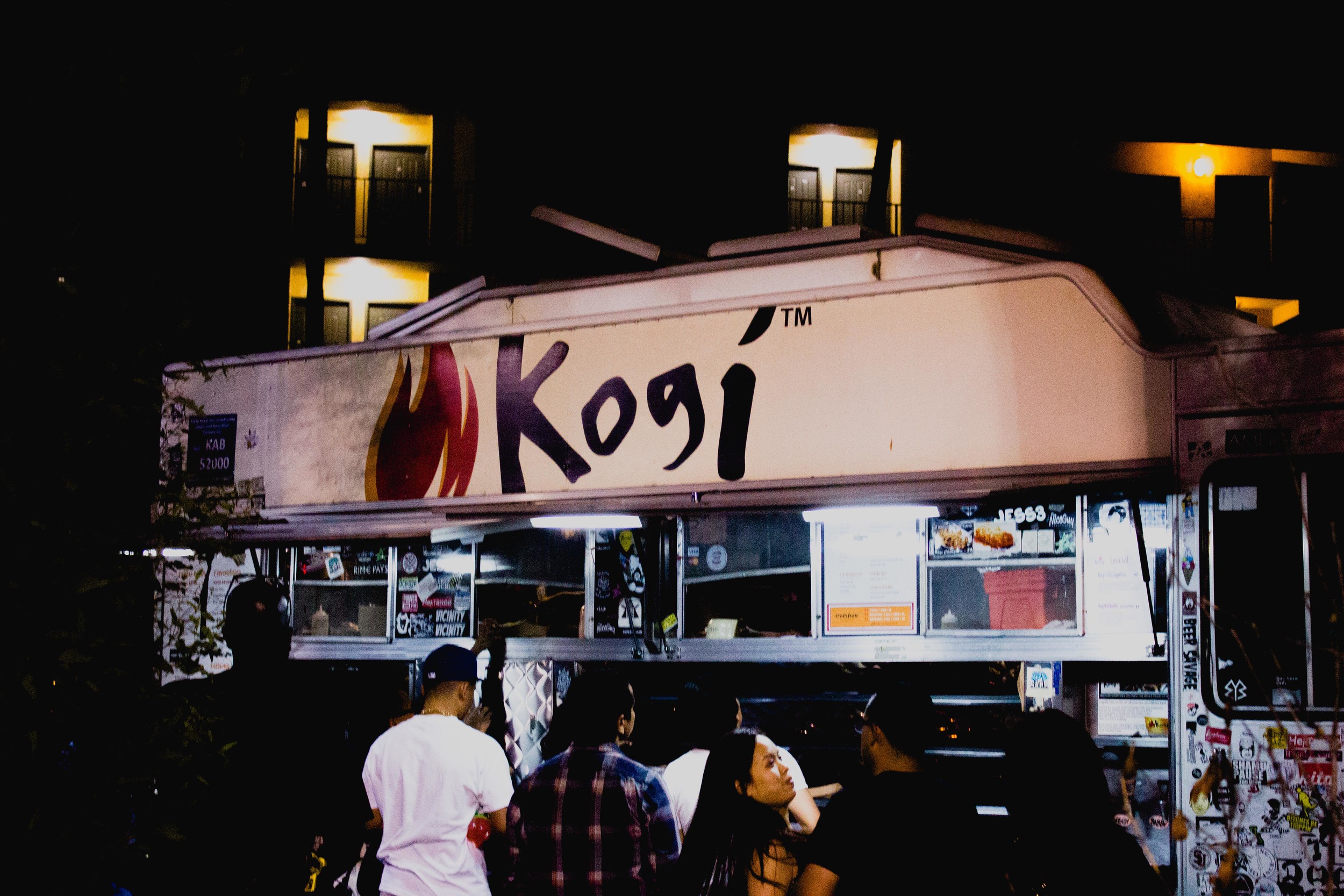 Chef Roy Choi's Kogi BBQ food truck, which kickstarted L.A.'s food truck trend in 2008 when it started selling $2 Korean barbecue tacos
So what defines a modern food truck? Bowring calls today's trucks "V2" or "version two," and says that it's the concept of the food they are serving that sets them apart from more traditional, "version one" trucks. In Switzerland, "V1" would refer to stationary trucks that serve pre-packaged ice cream, sandwiches and the like, and also to grocery store trucks, which used to circulate into neighborhoods selling cheese and other items from the store. "The V2 food truck is a great way for an entrepreneur to express creativity without taking enormous risks. In L.A., where things started, the fusioning of foods like Mexican and Korean is really cool, and the fewer fixed costs that are associated with a truck allow them to try those things. It makes room for a lot of creativity and it's cheap. Ish."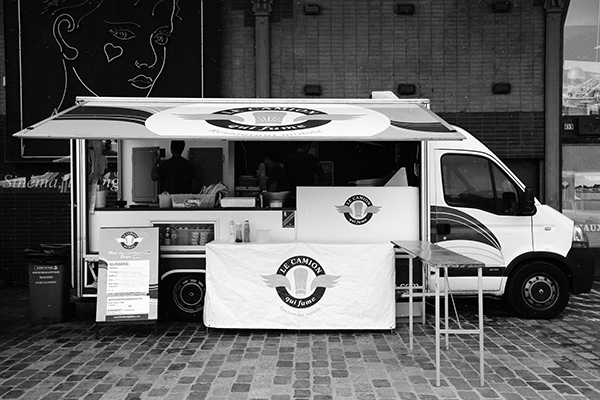 The Camion Qui Fume, Paris's food truck pioneer
Ish? "The initial investment—in Switzerland—is around 100K. That amount could differ elsewhere. To start a restaurant, you would need five or ten times that amount—between 500K and 1 million." (In the U.S., the average total startup cost for a food truck is $90,300 according to Mobile-Cuisine, a site dedicated to the food truck segment; Resnick puts that number at more like 75K, depending on city and concept). Bowring goes on to explain that in Geneva, restaurant owners must obtain a sort of license called a patente before opening their doors. To get it, they must complete a class called the cours de cafetière, which essentially certifies you to become a restaurant, hotel or café operator. But food trucks—provided they park on private land, don't sell alcohol, and don't have a terrace or provide seating—escape that law and therefore much of the red tape involved in starting a business. Regulation and licensing varies by country, but for entrepreneurs (truckapreneurs, as they are now referred to) with big ideas and little capital, a food truck can be a solution and a way to self-promote. "You can try something new and get feedback without investing everything," says Bowring. "But you're not going to make a fortune."
Christine Demen Meier, Associate Professor of Entrepreneurship at EHL, concedes that the initial investment needed to launch a food truck is indeed less substantial than that of a traditional restaurant. But she cautions that food truck owners tend to overestimate the demand for their product, which can lead to failure. "Food trucks can work, but it's hard to make a lot of money. It is a good entry to the market for entrepreneurs, but they need to be careful," she says. "They think that they will have more clients than they end up having, and that they will be working all of the time." The reality, according to Demen Meier, using Switzerland as an example, is that factors like weather, set meal times, and lack of crowds are big challenges.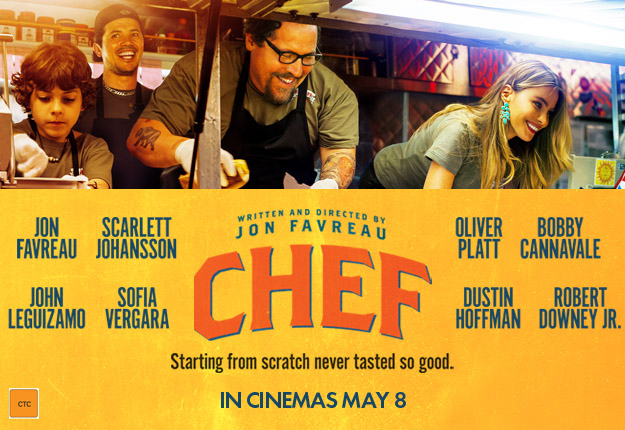 A poster for the film 2012 movie Chef, about a chef-turned-food truck owner.
Despite the romantic view of food trucks that Hollywood is selling with movies like "Chef," the more realistic perspective is that food trucks serve as a means to an end, a stepping stone to greater things. Take, for example, Paris's Le Camion Qui Fume, which expanded to water and published a cookbook, and Geneva's The Hamburger Foundation, which also expanded to an eat-in restaurant and even more recently opened an oyster bar, Chez Henri. Realistic, too, are established chefs and restaurants that adopt food trucks as a complement to their restaurants in order to increase visibility and add streams of revenue. "I think that this idea is more interesting because in fact the food truck can be conceived for delivery, to travel to the client, as a complement to the restaurant," says Demen Meier. In this case, the food truck goes where there is an existing market, and where the demand can be predicted. She adds, on the subject of food trucks in general, "They are more cost-effective, to a point. There is a greater profit margin for the same investment. But they need a market and a good location."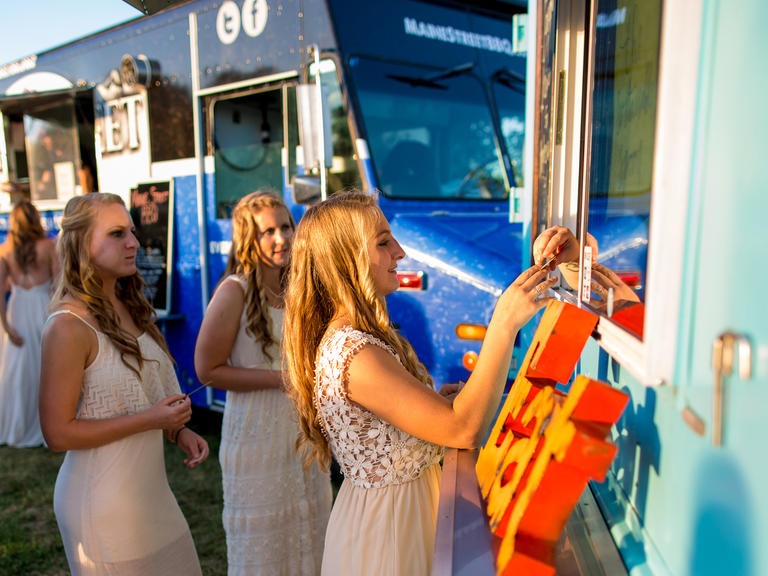 Food trucks offering catering at a wedding
In the U.S., food truck owners have discovered that private catering is a revenue stream that keeps them afloat. Resnick points out that in order for a food truck to be financially successful, they first have to provide a good service and a positive experience. But he adds, "Catering is where many of the successful food truck operators are doing well, in addition to large events and food truck lots. Roaming Hunger books food trucks for everything from retirement parties to baby showers."
Are traditional eat-in restaurants threatened by the rising trend of food trucks? Demen Meier says no, probably not. "In theory, they are not targeting the same clientele," she points out. Brothers Bastien and Maiko Nicolet, owners of Inglewood, an eat-in burger concept open since 2011 with two locations in Geneva and one in Lausanne, agree. "For us, it's two separate things, a food truck and a restaurant," says Maiko. "I see food trucks as more of a complement to the restaurants, not a threat. Competition is not a negative thing, it's positive. Everyone can evolve if for example there's a restaurant that sells lower quality food with higher prices and then a food truck parks next to it with better standards of quality and price. I think this is good for the city." The Nicolet brothers, one a former carpenter and the other a former professional snowboarder, have no plans to add a food truck to their already growing business. "To start a food truck just for the sake of having a food truck doesn't make much sense," says Bastien. "The concept has to be really thought out, and many of them are not."
According to industry insiders, food trucks can no longer be called just a fad, and their rapid growth could indicate they will be a lasting trend, despite the challenges they can face. "People of all ages love food trucks mainly because they provide a unique, one-of-a-kind experience and it's something that gets them out of the office and socializing with friends and colleagues," says Resnick. But it's not always fun to wait in line in the cold during winter months, which in Geneva means a few months of the year. Bowring notes, "We have a call up option now, for when you don't want to wait in the cold, and that is working well."
Did You Know? Food Trucks Facts:
Annual food truck revenue in the U.S. in 2015 was $1,200,000,000! Compare that with annual restaurant industry revenue of $709,200,000,000.
With a total of 4,130 trucks in the U.S., that's an average annual revenue of $290,556.
In the U.S., Los Angeles has the most food trucks with more than 373 trucks, followed by Washington D.C., San Francisco, Houston and Miami.
Intuit predicted in 2012 that by 2017, food trucks will be doing $2.7 billion worth of business.
In 2014, the average food truck spend in the U.S. was: $9.80 for lunch and $14.99 for dinner. Comparatively, the price for a burger, fries and a drink at Le Camion Qui Fume in Paris is €10.90, approximately $12.
According to Klout, which provides social media analytics, the most influential food truck of 2015 was Las Vegas's Fukuburger.
The most popular UK food truck so far in 2016, according to number of check-ins and overall ratings on Foursquare, is Kappacasein, which sells toasted cheese sandwiches from London's Bedale Street.
Among the top ten food truck trends so far in 2016 are "hyper-local sourcing," "new cuts of meat," and "house-made/artisanal ice cream."
Love food trucks? Get a job at Google, which has a fleet of 20 free food trucks catering to its hungry employees at the company's headquarters in Mountain View, California.
While L.A. may have the rest of the world's cities beat in shear volume of food trucks, Orlando leads the world in the number of trucks per capita.