Who wouldn't want to find work on an ocean liner and start listing "island hopping" as a daily job responsibility—right? Well, not so fast. We at hosco.plus were curious to find out what working on a cruise ship is really like, so we asked around. We talked to a former waiter, a former pastry chef, a current chef and a recruiter for an agency that specializes in placing cruise employees. While opinions varied, we got some great feedback about what to expect if you decide to set sail and embark on a new career path, as well as what the application process is like.
Let's start with the positive side of things—money saved and experience gained. The overwhelming response we received from those interviewed was that working on a cruise ship is one of the best ways to save money. Why? "Your basic needs are taken care of on a boat: lodging, all meals and laundry of your uniform and personal clothes. You basically just need to pay for your cell phone and cigarettes. You have great benefits and a doctor on board if you fall ill," says one source, who worked for one year aboard a Norwegian Cruise Lines ship as "Chief Pastry" (Executive Pastry Chef, in land language).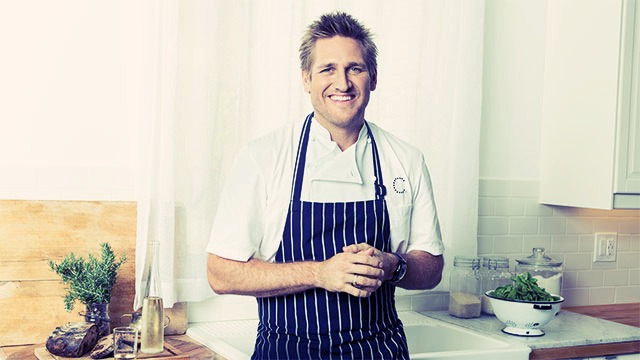 Chef Curtis Stone internationally known chef, host of food shows and now partner with the American Princess Cruises
Kenny Ramos Alvarado, currently the Executive Chef aboard a Celebrity Cruise Line ship, feels that the best part about a career in cruises is the training and experience that employees will gain during their contracts: "Crew members develop high-level culinary skills and experience in fine dining restaurants with multi-cuisine recipes and fundamentals," he explains. For hospitality students looking to gain a lot of experience in a relatively short amount of time, a contract on a cruise ship—essentially a "floating hotel," as Cecilia Grimaldi puts it—can be ideal training grounds. Grimaldi, Marine Recruitment Consultant for Viking Recruitment, handles talent search for Seabourn Cruise Line and worked on cruise ships for 15 years in various positions before starting her career in recruiting.
And developing top-level skills and hands-on experience is definitely something to expect from a job that requires you to work 10 to 14 hours a day, seven days a week for the duration of your contract. Yep, you read that correctly. A job on a cruise ship is decidedly not a vacation. One of our sources, a former waiter with Seabourn Cruise Line, says, "You work seven days a week, up to three shifts a day, every day of your contract. The hours were the hardest part of the job to get used to; it took me about a month to acclimate." In fact, all of our sources cited the long hours and limited time to go ashore as being a drawback of working on a cruise ship. And their advice to those thinking of applying for a cruise job? "Understand that the main reason you are coming aboard is to work and not to be on vacation," says Alvarado. Another source adds, "Many young people are attracted by the travel aspect of working on a cruise ship. It's a great perk, but your time ashore is actually very limited."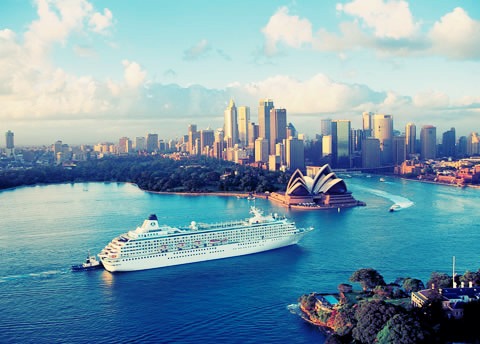 Cunard's Lanconia ship entering Sydney harbor.
So what does all of that hard work earn cruise employees in the end? According to Grimaldi, it's simple: "You see the world for free and earn good money. You work hard, but you travel, you wake up every morning in a new country, you meet new people and gain friends from all over the world. The most important is the people and the travel." Grimaldi agrees that the hours are long in any cruise ship position, but she stresses that there are opportunities to enjoy being on the boat and to go ashore. "You might work two shifts per day, but you will have breaks between shifts," she says. She adds that while managers are typically on call 24/7, they are able to spend time ashore as long as they remain contactable.
Those who had a less positive experience working on a cruise ship do not deny that their time spent as a cruise employee still earns them respect today. Says one source, "I keep it on my CV, because when people who know the industry see that you have worked on a cruise ship, they respect it. They know you are a hard worker. I always earn points." Grimaldi agrees, and adds, "It opens a lot of doors. You can always go into hotel work on land after completing work on a cruise ship. Or into recruitment!"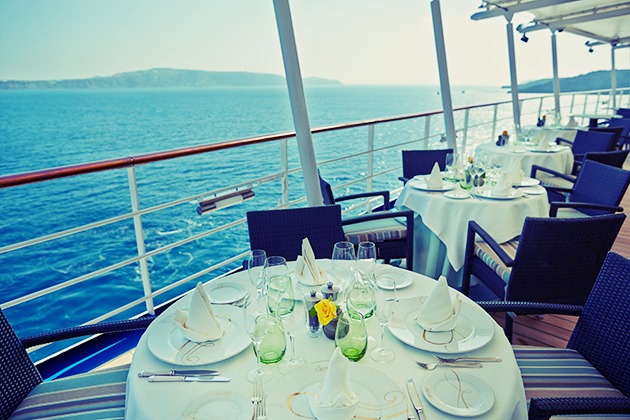 Regent Seven Seas Cruises' Mariner board walk dining restaurant. It was the industry's first all-suite, all-balcony ship in 2001
Speaking of earning, is the pay fair? While it may be easy to put money aside during a cruise ship contract, let's examine how employees are paid and what a typical salary is. Grimaldi explains that cruise employees are typically paid either once a month or once every two weeks, and can have the paycheck directly deposited to their bank account. They can also ask the crew office to cash out a certain amount each month. For the the cruise lines that Grimaldi recruits for, the position of restaurant waiter will earn between 1965 and 2000 euros/month on average, with bar waiters and housekeepers earning slightly less with a range of 1604 to 1700 euros/month. The range for a reception employee is slightly larger—between 1600 and 2100 euros/month—and depends on the rank of the position. Managers and headwaiters can expect to earn up to 3000 euros/month.
All of that sounds about average when you compare it to other hospitality positions on land. However, as mentioned above, the salaries cover seven days per week of work and up to, in some cases, 100 hours per week of work. One source notes, "I was paid 3,000 USD per month. The pay was good because you could save it all, but if you break it down by the hour it is not as nice." Another source, who was a manager, questions the value of his competitive salary against the grueling hours he put in: "I negotiated my salary well. But after adding up my hours and furlough pay, I ended up making just a little bit more than 9 USD per hour. I was a salaried manager and made more money than others. In the end it just was not worth the damage that it did to my health and being away from family and loved ones." Ouch.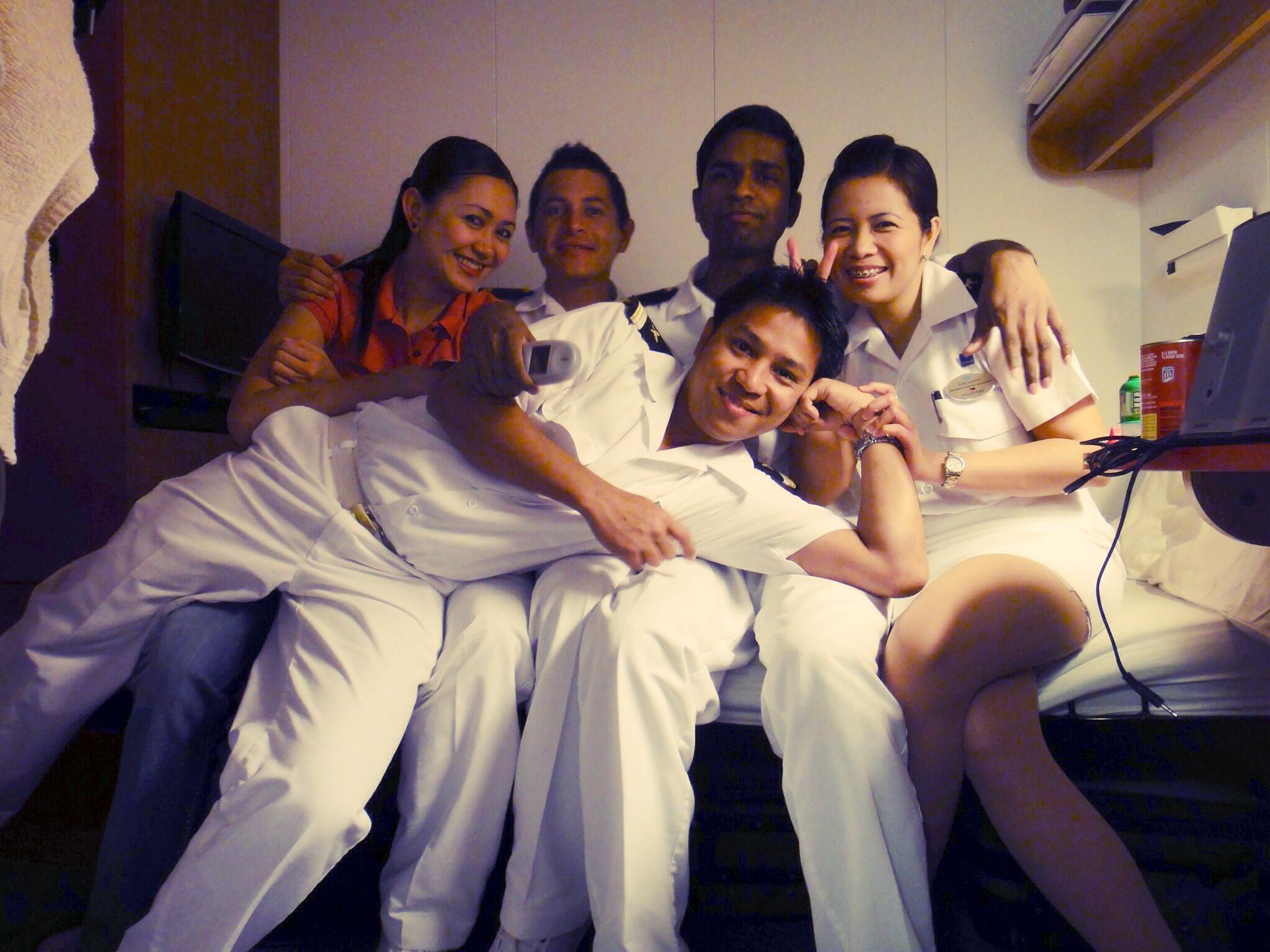 Cruise Staff members during a break. David, the second from left, is the author of "Jump and Travel", a website about working on ships and traveling the world. http://jumpandtravel.com
Cruise employees also noted the lack of privacy as a negative aspect of ship life. While managers and captains may have their own cabins, most other cruise employees share living and sleeping quarters, with groups of two, three and four employees sharing a cabin, bathroom and shower depending on the cruise line. Grimaldi says, "It can be hard. There are different cultures and personalities. And everyone knows everything on the ship—there is no privacy!" However, she adds, the first contract is always the most difficult. "It will be very challenging at first. I tell applicants, 'Don't go for just one contract; do at least two and you will then understand. You will be prepared for anything and everything—to be flexible and to be a team player. Keep an open mind. If the first contract is good, that will change things for you.'"
Up for the challenge? If so, be just as prepared for the application process. Although Grimaldi assures us that the process with her agency is fairly streamlined—most applicants receive response within 10 days of submitting an application—it is clear that cruise ships are seeking a certain personality when recruiting. The pre-screening process involves a personality test that will be analyzed by a team before an interview is granted. Grimaldi says of the test, "We look into the parts that show passion and desire to do the job. In hospitality, you are an actor or actress on stage, always smiling. We need someone committed to this life and who will give everything of themselves for the job. We need them to be approachable and to engage the customer. We also need someone willing to grow in the position and into a career."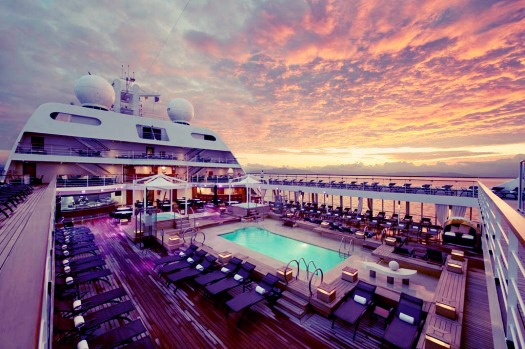 The Seabourn Odyssey. Boutique cruise ships are hot and Seabourn Cruise Line's Sojourn and Quest carry just 450 guests apiece in ocean-facing accommodations, and have one of the highest ratios of space per guest in the cruise industry. Rumors say it is one of the main competitors for Titanic II.
One more thing—if your heart is set on scoring a position on a cruise ship and also on a large tattoo, you'll have to choose one over the other. Before an applicant is offered a position with the cruise line, he or she must disclose any tattoos on an initial phone call, and possibly send a photo of it for approval (generally, anything that a uniform will cover is acceptable). If a candidate successfully passes the prescreening personality test, tattoo check and initial call, he or she will be invited for a Skype interview.
At this point, if the candidate is successful, depending on the cruise line, a background check and medical exam are scheduled, and assistance with visa paperwork begins. Although Grimaldi says that a drug screen is not a current part of the application process for Seabourn Cruise Line, all cruise employees working onboard are subjected to daily random drug testing. Any failure means being sent home by the ship's captain.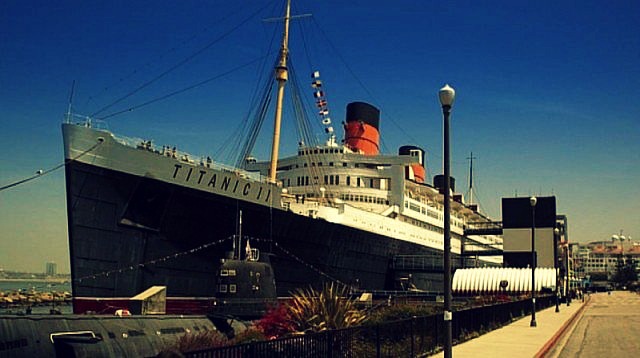 A mock of Titanic II made for the 2010 telemovie of the same name. Leading businessman Clive Palmer has launched a new international shipping venture, which has plans to build a fleet of world class luxury liners, including a 21st century version of the Titanic.
Once a contract is in place, the cruise line arranges flights and uniforms, and the employee will report to the ship. "All training is done on board, and you will get all of your certifications during the first few weeks," says Grimaldi. "It's a very busy time—you'll be learning about life boats and rafts, emergency procedures, how to deal with fire, first aid, CPR." Each crewmember will undergo about 30 hours of training during the first few weeks.
And on the first day? You are expected to jump in and work. One of our sources, the former waiter, recalls that he travelled for 24 hours straight before reporting to his ship to work. "Four connections, five flights. I arrived at 6 PM. I got my uniform and I worked that very night."
8 Interesting Facts About Cruise Industry
The cruise line industry supports nearly 400,000 jobs annually, with a payout of nearly six billion USD in wages.
Most cruise ships need between 800 – 1,500 staff to run efficiently.
The CLIA (Cruise Lines International Association) projects that 24 million passengers are expected to take a cruise in 2016, up from 23 million in 2015.
Between today and 2020, cruise lines are investing more than 25 billion USD to build 55 more ships. In 2016 alone, the industry will see 27 new builds.
There are over 2000 ports of call around the globe that cruise ships can visit.
The top three cruise companies are Carnival Corporation, Royal Caribbean Cruises and Norwegian Cruise Line Holdings. The three lines account for 81.6% of worldwide share of passengers carried and 76.7% of worldwide share of revenues.
The cruise industry is the fastest-growng category in the leisure travel market. Since 1980, the industry has experienced an average annual passenger growth rate of approximately 7.2% per year.
The Caribeean and Bahamas is the number one destination for cruises, with 35.5% of capacity in 2015.