Where is the hotel amenity as we know it today headed? Let's decide first on what exactly an amenity is. Is it the brand-name gym on site? The shampoo and conditioner in the shower? The free slippers tucked under the bed during turndown service—or the turndown service itself? Or is it the champagne and roses package, available for purchase at the concierge desk on Valentines Day? Really, it's all of the above. A hotel amenity is any item or service the hotel offers that contributes to the overall guest experience. Once an industry specific term, the word amenity is on the tip of every potential guest's tongue in today's ultra competitive and well-informed market. This means hotels put a lot of thought, effort and creativity into what they offer guests—from the standard complimentary toiletries to more luxurious perks like pillow menus and targeted room décor to the chargeable extras like private car (and even private jet) services. Hosco.plus did a bit of research on how the hotel amenity has evolved over the last two decades and where it's going next.
"The hotel amenity is an interesting conundrum," says Bjorn Hanson, former Global Industry Chairman – Hospitality & Leisure with PricewaterhouseCoopers LLP. "Looking back in history, hotels want to avoid something called 'amenity creep,' which has occurred when they just start adding more and more of them, and all of the sudden the industry realizes they are spending too much and have to cut back." Hanson, currently a Clinical Professor of Hospitality and Tourism in NYU's Tisch Center, says that the occurrence of 'amenity creep' includes hotels' offering everything from standard amenities like bathroom toiletries and minibars to high tech amenities like in-room iPads and automated check-in options. The solution? To avoid negative guest reaction to industry-wide cuts, Hanson says, "the brands are allowing individual hotels more flexibility" in what they offer guests. That is to say, hotels are making more market-based versus brand-based choices when it comes to amenities today.
But is guest reaction to cuts in amenities always negative? No, says Hanson. In fact, over the last two decades, guest expectations in terms of sustainability have changed, which has shifted guest perspective on cutting back on certain items, particularly for younger travelers. "I'll give you the example of what's on the bathroom counter—soap, shampoo, conditioner, body lotion, mouthwash, shower cap, etc.—all individually packaged. There is an assumption there that much of it is wasted, and this in itself is getting a negative reaction. Whereas 20 years ago, the feeling was: the more the better."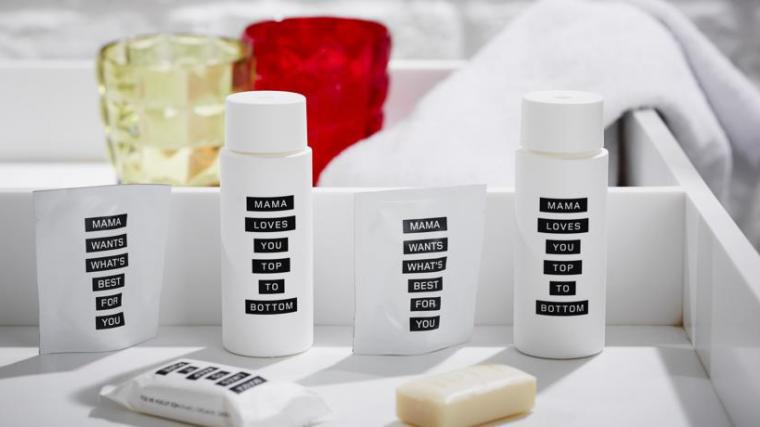 Mama Skin bathroom amenties from Mama Shelter
Certainly some hoteliers have picked up on the "less is more" concept when it comes to amenities, but not just for sustainability reasons—today's guest is savvy when it comes to quality. Jeremie Trigano, CEO of Paris boutique hotel Mama Shelter, says, "We always thought that we should offer the best quality amenities even if that meant giving a bit less of the non-essential ones. I think that guests expect good value for money, and more and more of them expect quality. They prefer four or five quality features over 20 gimmicks that are useless." Although Trigano says that his hotel spends "three to four times what midscale hotels in our range spend" on in-room amenities, which includes the hotel's own Mama Skin organic products as well as free blockbuster and XXX movies and free high-speed wifi, "this is all built into the room rate as we believe it is part of the guest experience."
Does part of the guest experience mean taking some of those high-end amenities home? According to this article in Forbes, yes—and it's exactly what hotels want guests to do. The author notes that when guests bring an item home, it means that the hotel has done something right, and also that the guest will think of their experience when they use the product at home. Trigano agrees, although he also mentions that guests are also encouraged to buy the products in the hotel gift shop and online. "We now have guests from Australia ordering Mama Skin on our website," he says. Hanson notes that although it may not be in the best interest of a hotel, financially speaking, to continually replace toiletry items during a stay if guests take them, they will do it. "Even the hotels that are reluctant to bear the extra expense will put out a new one," he says.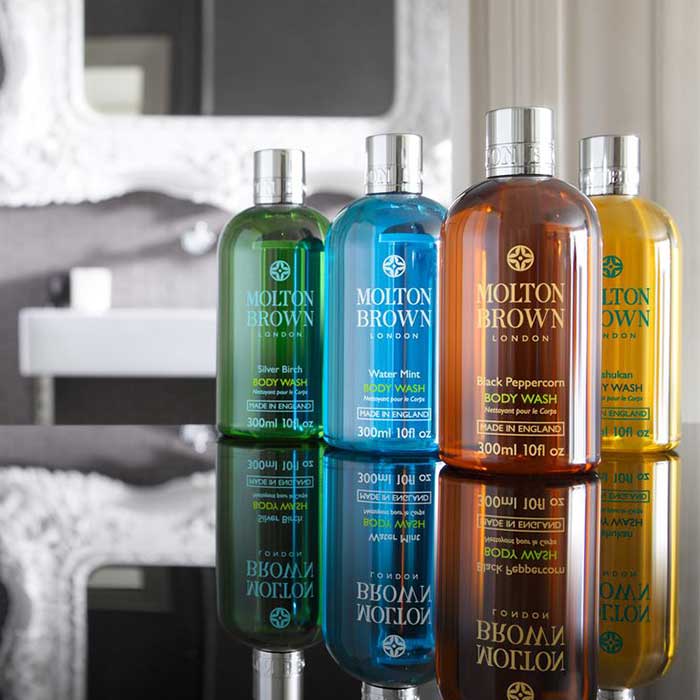 High-end bathroom amenities from Molton Brown. Go ahead, take one home!
Frederic Lohier, former Purchasing Director for Mandarin Oriental in Geneva, Switzerland, says that although the global tendency may indeed be moving toward sustainability, this tendency depends heavily on the local market. For example, Geneva, Switzerland is known a "special" market, catering to wealthy travelers and international business travelers who pay very high room rates. In 2015, Geneva had the highest European ADR at €227,60, followed by Zurich, London and Paris, according to pwc's annual report, titled "Room to grow: European cities hotel forecast for 2014 and 2015." Lohier notes that while other Mandarin Oriental properties use different brands, the Geneva hotel uses exclusively Molton Brown products, a brand that is expensive but loved by regular hotel guests. "Mandarin gives a lot of leeway to the hotel in terms of guest satisfaction. There are standards, but the individual hotels' brands can differ according to the local market," he says. Sustainability is not a priority for guests like these, he says. What's more, it is expected that guests will take amenities home with them. "When you pay those prices, you can expect to go home with a shampoo," he says.
Beyond the bathroom amenity, what's trending in hotels today? As Hanson notes above, hotel brands are allowing individual hotels more flexibility in what they offer to guests. Why? Along with the generational push for sustainability comes a desire for local products. According to Hanson, using local products gives hotels an edge in authenticity. "Guests are thinking of the environment and the carbon footprint of transportation—everything from the art that's in the lobby to the food," he says. "It just seems more genuine than something that's made someplace else in the world."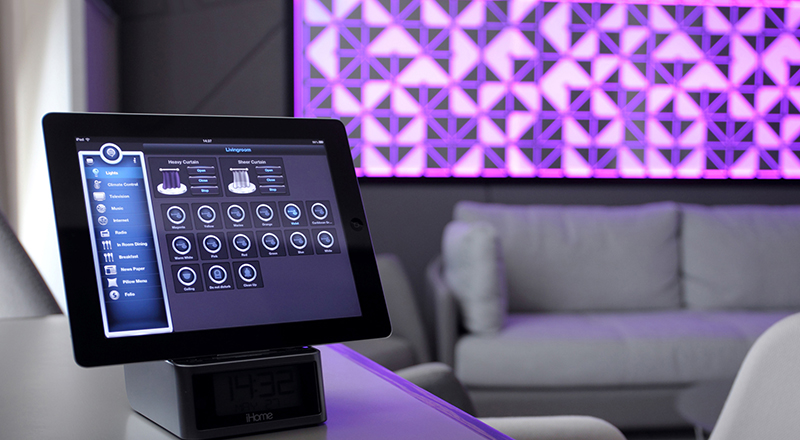 Hotel Room The Torch in Doha
Allowing guests to customize their experience through technology is also hot, according to Hanson. "The iPad is not as special as it once was, but there are different types of PDAs that communicate with the hotel—to order room service, call housekeeping, close the blinds," he says. "It gives the guest who values tech a kind of 'wow' experience and let's them 'sample' the product." Hanson also notes that hotel apps that allow guests to to check in and out, order things, personalize their choice in newspaper or pillow are on the rise. "For those that prefer to use tech over human interaction," he says. On this subject, Trigano agrees and adds, "More than pure amenities, people are looking for features that make their stay more interactive and smooth. I think the future trend will be to create a digital environment where guests will be able to play games, chat and seduce one another from their rooms!"
Hanson also considers things like room and lobby décor to be amenities, as they allow the hotel to have a distinctive communication or relationship with their guests. "It's all fine-tuned by market," he says. "In some markets it means more upscale and frivolous items, in some markets it's more environmental." He notes that there are some pieces of furniture in a room that deliver a specific message to the guest—be it a comfortable reading chair recliner or more of a work of art, e.g. two chairs sitting in opposite directions. "It creates something special in the room. The trend is for the practical, but some brands like Marriott are considering eliminating the desk altogether. Guests are reading on screens and it's being done on the bed. So the desk space can be reconfigured, which makes an impression," Hanson says. Same goes for the large credenzas that once held large televisions, and minibars. Hanson says eliminating those classic furniture items makes way for new ideas—like dining areas and refrigerators. He notes, "The minibar has gone away from its peak 25 years ago. Many hotels are replacing it with a refrigerator, which is a great amenity for guest who want to keep something that they bring home cold."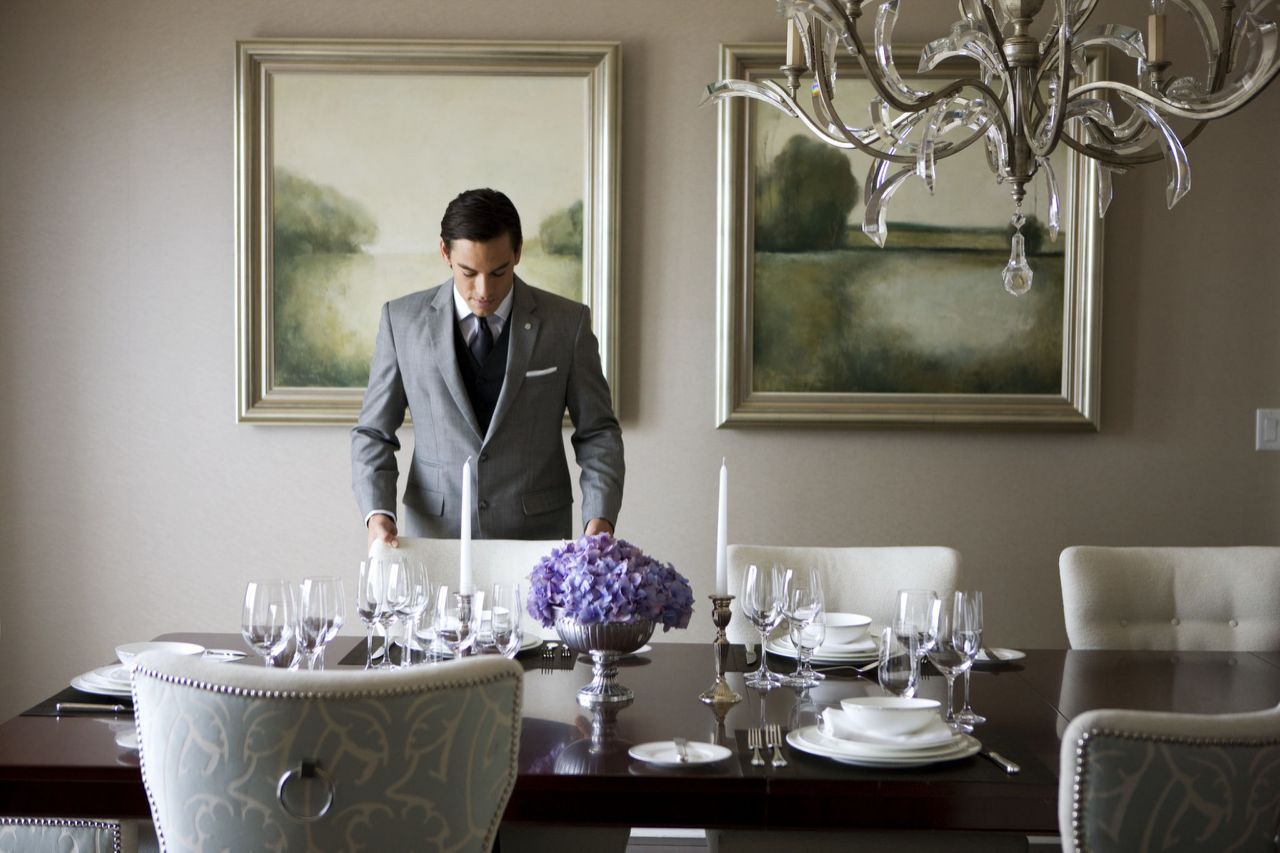 Butler service at the St. Regis New York
As Trigano notes above, most of the amenities discussed so far—toiletries, apps, tech, room décor—are built into the room rate, all as part the larger guest experience. But what about services that are not included in the rate? Hanson says that there's a long list of what's trending today in paid amenities, and for good reason: "They provide a special service—an amenity in service form—but they accomplish something else as well. In North America, occupancy is much less of a challenge than rate. So to the extent that there can be services that are not included in the rate, the idea is 'let's provide guests with every opportunity to spend the most that makes them happy.'" Amenities paid for by the guest include things like transportation services, tailored concierge and butler services, retail tie-ins and pet services, to name a few. "This increases revenue, and it produces a kind of halo effect for the hotel," says Hanson. He notes that the more special services a hotel offers, the more "upscale positioning" it can attain, allowing for slightly higher rates and more occupancy in the end.
By offering those "special" services, hotels also set themselves apart from the competition and gain guest loyalty. Good news for savvy travelers—as hotels compete, the guest experience only gets better. What comes next? Check out our list of out-of-the-box amenities that hotels are offering today.
Bringing your dog, cat or lizard along for the trip? Hotels today are becoming more and more pet-friendly. But a simple water bowl and dog treat for Fido on arrival are so...2010. These days, to cater to pet owners, hotels are going a bit further than free water and plastic bags. Some Kimpton hotels now feature Directors of Pet Relations, four-legged ambassadors that greet you and your pet on arrival, and at the brand's Hotel Monaco in Portland, your pet can see a psychic or get a massage on property during your stay. Left your pet at home and in need of some companionship? No problem, the Hotel Monaco will also loan you a goldfish for the duration of your stay on request.
Out-of-the-Box Amenities Around the World